About FDC
A high level of professionalism and competent counseling has made us a trusted advisor and partner for our clients – and one of Scandinavia's largest suppliers of IT solutions for the insurance and pension industry.
We want FDC to be the leader in the Nordic market for consulting, implementation and operation of insurance and pension solutions.
We will achieve this by
• translating technology into new solutions
• providing administrative services, bringing the percentage of administration of our clients to the lowest in the industry
• supporting our clients' focus on digitizing and customer experience
• our owners having a long-term ownership with reinvestment of the results in the continued development of FDC
Innovative – We are skilled professionals who deliver the best solutions
Honesty – We are sincere towards the client and each other
Value – We create value and meaning in everything we do
Responsible – We take responsibility for the entirety of our performance
History of FDC
FDC is Scandinavia's largest supplier of IT solutions for the insurance and pension sector. FDC's position has been considerably strengthened in recent years, and we are making targeted investments in order to maintain our gains.
1965
1966
1974
1988
2000
2001
2009
2009
2015
FDC was founded
FDC's first computer had a processing unit of only 32 kilobytes.
FDC moves to Lindevangs Allé in Frederiksberg
A two floor villa on a side road between Peter Bangs Vej and Finsensvej in Frederiksberg.
FDC moves to Malmparken in Ballerup
Until then, the building was headquarters to Danish computer company Regnecentralen.
The first basis for the unified F2100 solution was established
FDC's Unit Link component is brought into use
This attracts a lot of Danish and Norwegian clients
Relocation to the address Lautrupvang 3A
It is only a few kilometers to the North, crossing Ballerup Byvej
FDC is converted into a public limited company – with the same owners
FDC is certified as a green business
FDC obtained the Green IT certificate.
Entered into partnership with Guidewire
Do you wish to learn more about a potential partnership?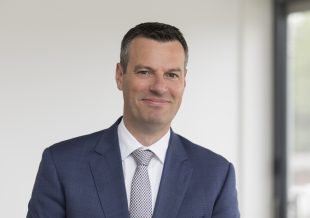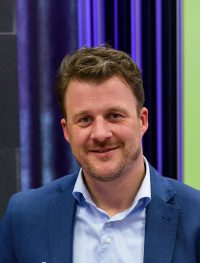 Ivo van den Heuvel
Board member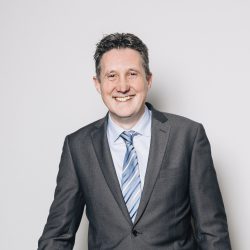 Jan Hendrik van Deenen
Board member

Frank Høst Meyer
Employee representative

Gitte Maÿland Hansen
Employee representative
Partnerships
FDC enters into partnership with other vendors to ensure that our clients are offered strong solutions to support their business.
View all FDC's collaborators below.
Process Factory
Process Factory automates your processes and provides direct integration between insurance systems and all of the third-party systems and services that a Danish insurance company needs.
Spitze & Co
Spitze & Co offers Moxie Software, providing organizations with the opportunity to interact with customers throughout the customer's entire digital journey and ensuring that the customer gets the same – and right – answer regardless of channel.
---
Vacancies
If you would like to work in a dynamic and spirited workplace where well-being and ambition goes hand-in-hand, please apply for one of the vacancies below.
If no vacancy suits you and your skills, feel free to send us an unsolicited application or sign up for one of our recruiters.